Mr. Bill Christy, 1942 - 2008
Mr. Bill passed over to the other side late Sunday morning on January 27th, 2008. He will live forever in the LAVA House story and will rest closely to our hearts for the rest of our lives. He made us laugh, made us fume, and always kept us on our toes. His feisty personality was a signature at the LAVA House from the time artists arrived until it came to the ground. Bill loved people and loved his life, which he lived to the absolute fullest. We will always be reminded of his regular phrases like "I ain't dead yet", "I ain't wed, I ain't dead, and I ain't gay" (referring to his interest in the ladies), "I been there, seen it, done it", and "Hey... Who loves us?" to which we would reply back to him, "We do". "Mr. Bill" Christy, we love ya forever daddy-o...
Bill's Arrangements
Bosse Funeral Home
1355 Ellison Avenue (at corner of Ellison and Barret)
Visitation - 4-8 Wednesday
Graveside service at Cave Hill Cemetery - 11:00 Thursday morning.
To be in the funeral procession, be at Bosse Funeral Home at 10:00 am Thursday.
THERE WILL BE A BILL CHRISTIE MEMORIAL AFTER THE FUNERAL AT LISA'S OAK ST. LOUNGE DIRECTLY AFTER THE FUNERAL SERVICE. PLEASE BRING STORIES TO TELL ABOUT MR. BILL.

Nathan Salsburg and Will Oldham sing Tell Ol' Bill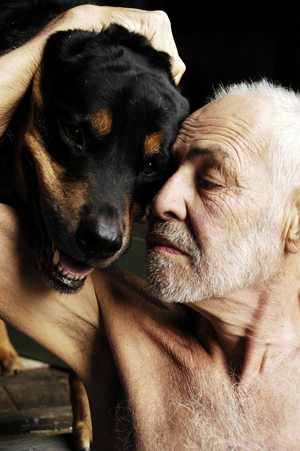 Bill and Disco in the summer heat, 2007
Helvis, ? - 2008
Seed also lost his dog Helvis in the fire. He must have gone to sleep from the carbon monoxide inhalation, as he didn't follow his pal Iggy out of Seed's room. We will miss him dearly as well. We loved to walk in the LAVA House and see a creature as excited to see was as Helvis was. Seed, we mourn of your loss of Helvis and are so happy that Iggy is still with us.